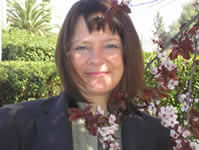 4433 Kaluamakua Pl, Kilauea, HI 96754
3631 Mona Way
San Jose
CA
95130
Lynn Ablondi, L.Ac., is an Acupuncturist, certified Nationally and licensed in California and Hawaii. She is an herbalist using Traditional Chinese Herbal Medicine, a Barefoot Shiatsu Therapist/Educator, and a Massage Therapist.
EDUCATION AND PROFESSIONAL SERVICE
Master's Degree, Five Branches University in Santa Cruz, CA, 1998. California Licensed Acupuncturist.
Nationally Certified Diplomate of Acupuncture, NCCAOM.
Administrator, Five Branches University, San Jose, CA,
Dean of Education, faculty member,Trinity College, San Jose, CA, re-writing the school's 1000-hour massage curriculum.
About My Practice
Through her comprehensive healthcare treatments, Lynn addresses diverse health concerns, among them:
flus, colds and other respiratory disorders
women's health – pms, hormone imbalance, menopausal symptoms
urinary and bladder complications
headaches and migraines
neck, back and low back pain, joint pain
emotional imbalance
insomnia
anxiety, depression
digestive imbalance
weight loss
facial rejuvenation
detox acupuncture