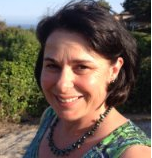 1509 Seabright Avenue,Suite , Santa Cruz, CA, United States
1509 Seabright Avenue
Santa Cruz
California
95062
US
Evi  Tigan has worked in the health care profession in different capacities all of her working life. At 35, she followed her calling to study Traditional Chinese Medicine. She studied science at Cabrillo College in Aptos, California and in 2003 received her Associate in Science degree, with honors. After graduating from Cabrillo College, she enrolled in the Master's program in Traditional Chinese Medicine at Five Branches University in Santa Cruz. She received her master's degree from Five Branches in 2008.
Evi is a California Board Certified Acupuncturist and has been practicing acupuncture and herbal medicine in Santa Cruz since 2009.
Office Hours
| | |
| --- | --- |
| Monday | 8:15 am - 4:15 pm |
| Tuesday | 2:45 pm - 4:15 pm |
| Wednesday | Closed |
| Thursday | 2:45 pm - 5:45 pm |
| Friday | Closed |
| Saturday | 8:15 am - 4:15 pm |
| Sunday | Closed |
About My Practice
She utilizes each patient's personal energy to facilitate healing and wellness, incorporating a variety of modalities during treatment sessions. She is also committed to educating patients on ways to help them to improve their overall health. She encourages patients to realize the importance of  resisting illness by maintaining a healthy immune system through regular acupuncture treatments.
Evi believes in an integrative approach, encouraging her patients to utilize both Western and Traditional Chinese Medicine to address all aspects of proper health maintenance and illness prevention.