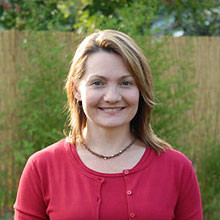 3942 SE Hawthorne Blvd. Portland, OR 97214
3942 Southeast Hawthorne Boulevard
Portland
Oregon
97214
US
Taya is a graduate of the University of California at Santa Cruz, where she received a bachelor's degree in psychology. She received her master's degree in traditional Chinese medicine from the Five Branches Institute, also in Santa Cruz. At Five Branches, she studied with and received clinical training under the esteemed Dr. Sharon Feng, a specialist in women's health in the fields of gynecology, fertility, and obstetrics. She continued her clinical training in Beijing, China, with the highly regarded Dr. Ju-Yi Wang.
Taya is an empathetic practitioner who takes time with her patients to build a relationship of trust and to work together as partners in the healing process. She has a broad knowledge of different systems of medicine and strongly believes in the importance of finding the best treatment available for any given condition. She is a proponent of integrative health care and frequently collaborates with other practitioners both within and outside of the Center.
Taya specializes in women's health, fertility, hormone, and menstrual problems. For many years, she has been successfully treating patients for back, neck, shoulder, and knee pain; tendonitis; fibromyalgia; arthritis; headache; and migraine. She also treats conditions such as stress, anxiety, insomnia, digestive problems, allergies, and asthma.
Taya enjoys Tai Chi, qigong, yoga, traveling, gardening, reading, and most of all, spending time with her husband and two young children.
Office Hours
| | |
| --- | --- |
| Monday | 9:00 am - 1:30 pm, 2:30 pm - 6:00 pm |
| Tuesday | 2:30 am - 6:00 pm |
| Wednesday | 2:30 am - 6:00 pm |
| Thursday | 9:00 am - 1:30 pm, 2:30 pm - 6:00 pm |
| Friday | 2:30 am - 6:00 pm |
| Saturday | Closed |
| Sunday | Closed |
About My Practice
Hawthorne Wellness Center offers a broad spectrum of integrated, evidence-based healthcare disciplines, as well as movement classes, to help our community get well, stay well, and be well.
In our interdisciplinary setting, individual patient needs are paramount and care is patient-centered. Our goal is to promote health and recovery from illness and injury by drawing on the collective knowledge and resources of our experienced healthcare providers. We offer a nurturing environment where all patients are encouraged to take responsibility for their own well-being in partnership with their physicians.