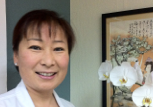 122 Sherman Ave, Palo Alto, CA 94306
122 Sherman Avenue
Palo Alto
California
94306
US
Dr. Xu has completed doctoral courses and internships in Traditional Chinese Medicine and Acupunture in China. After completing Doctor of Science studies in Beijing, she passed both the California and US National Acupuncture & Oriental Medicine Licensing Exams. She also completed a Doctorate of Acupuncture and Oriental Medicine in the United States.
About My Practice
Dr. Xu has extensive clinical training in a broad range of common primary healthcare problems, including women's menstrual issues, infertility of both males and females, and complex pain syndromes. She has helped many patients
with gastrointestinal dysfunction, migraine headache, sleep disorders and peri-menopausal problems.