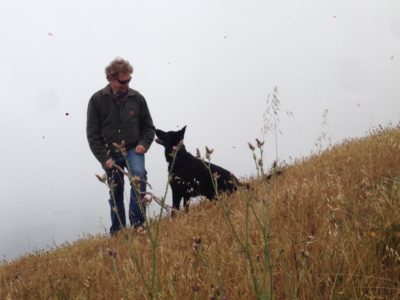 222 Oak Meadow Drive, Ste B Los Gatos, California 95032
222 Oak Meadow Drive, Ste B
Los Gatos
CA
95032
Following a 2 year study of western herbs with well know botanist and herbalist Christopher Hobbs Ph.D., Doc enrolled as one of the first students at Five Branches following its initiation in 1984.  Graduating in 1989, he began his practice in Los Gatos at Oak Meadow Medicinals, serving the Silicon Valley with quality Traditional Chinese medicine. In 1995, when the school transitioned from a private institution to a not for profit institution, he was asked to join the Five Branches Board of Directors by his teachers, a position he held until 2000. It was during this time that he was asked to teach at the school in both the clinic and the classroom. A passion for the medicine has kept him teaching since, with his current academic schedule filled with History and Philosophy classes and both beginning and advanced Case Studies where students learn the constructive logic of inquiry, diagnosis, treatment, research and academic writing with both Chinese medicine and modern medicine.
In 2006, after 17 years of a busy clinical practice, Doc returned to academia as a student for further education and completed his Doctorate of Acupuncture and Oriental Medicine (DAOM), focusing on Family Medicine, Internal Medicine, Orthopedics and Pain Management. His devotion to the Five Branches and Chinese medicine continue with his current role as the associate faculty chair for the Chinese medical Theory department where he recently helped complete the enhancement of the academic curriculum for the new First Professional Doctorate with a group of other academic chairs and the administration.
While many of his patients come for orthopedic issues, many more have sought him out for the treatment of both difficult "knotted" diseases and fertility issues. His long-standing clinical practice and academic experience have given him unique insights in the treatment of many diseases and conditions. These activities, combined with his rigorous pursuit of academic excellence in teaching, have informed his skills both as a clinician and educator. As a seasoned educator, his knowledge of the medical classics and modern research inform his clinical practice and as a seasoned clinician, his experience informs his teaching of both patients and graduate students. Doc brings this integration of both the best of this ancient medicine and modern medicine to his serene clinic nestled in the woods by the creek in Los Gatos.
Doc continues to live deep in the rural Santa Cruz mountains where he has lived for decades.
Office Hours
| | |
| --- | --- |
| Monday | 10:00 am - 5:00 pm |
| Tuesday | 10:00 am - 5:00 pm |
| Wednesday | Closed |
| Thursday | 10:00 am - 5:00 pm |
| Friday | Closed |
| Saturday | Closed |
| Sunday | Closed |
About My Practice
Doc Mitchell began his practice at the Oak Meadow Medicinals clinic in 1989 with the simple wish to serve the people of the Bay Area with high quality traditional Chinese medicine (TCM). He observed that as sophisticated as modern medicine had become, it failed to address the main issues that are the actual source of many of today's health concerns. As the foundations of Chinese medicine stem from a 2000 year old literate conversation about health, longevity and the treatment of disease, he found there was much to offer that complimented modern medicine, both in the prevention of disease and its treatment.
Visits are by appointment only and are generally scheduled on Monday, Tuesday and Thursday from 10:00 to 5:00. Please call to schedule an appointment. Doc does offer a free consultation to those who are serious about the medicine and would like to know how it might help them.
We are located in the Heart of Los Gatos, nestled in the woods by the creek. Our clinic provides an environment of relaxation and serenity where you can receive the best Acupuncture and Herbal medical care from licensed practitioners with years of experience.