12741 Research Blvd Suite 505 Austin, TX 78759
12741 Research Boulevard
Austin
Texas
78759
US
She moved to Austin in 1991 after I earned a degree in Psychology from the University of California at Santa Cruz. I then spent another three and half years at the Five Branches Institute of Traditional Chinese Medicine. I also went off to China after my schooling and spent some time living and working in a hospital in the city of Xia Men in Fu Jian province.
About My Practice
Chinese Herbal Medicine, Menopause, Pain Management, Traditional Chinese…, Holistic Health, Wellness, Herbal, Chronic Illness, Acupuncture, Chronic Pain, Stress Management, Healing, Back Pain, Alternative Medicine, Stress, Wellbeing, Treatment, Tui Na, Meditation, Reiki, Nutritional Counseling, Mental Health, Wellness Coaching, Migraine, Fibromyalgia, Nutrition, Arthritis, Cupping, Sciatica, Bodywork, Insomnia, Allergy, Herbs, Lifestyle, Neck Pain, Fertility, Energy Healing, Digestive Disorders, Headaches, Therapeutic Massage, Infertility, Energy Work, Relaxation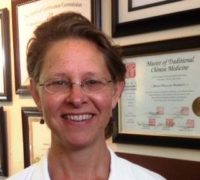 2525 Wallingwood Drive, Austin, TX 78746
11.81 mi
After five years of Chinese Medical school, years of post-graduate study to specialize in Women's Health and chronic disease, treating patients in private pr...