6475 Co Rd 203 Durango, CO 81301
6475 County Road 203
Durango
Colorado
81301
US
She is a licensed acupuncturist/herbalist who holds a Master's Degree in Traditional Chinese Medicine from Five Branches Institute in Santa Cruz, California. She is Board Certified with the National Certification Commission for Acupuncture and Oriental Medicine and licensed by the State of Colorado to practice Acupuncture. She also has 18 years of experience as a Certified Massage Therapist.
About My Practice
Christin specializes in "Acussage" which is a combination of a 30 minute acupuncture treatment and a 30 minute therapeutic massage on trouble areas. Some conditions that Acupuncture treats are; Chronic Pain, Injuries, Infertility, Endometriosis, Menopause, Headaches, Digestive Disorders, Allergies, Smoking Cessation, Anxiety, Insomnia, Weight Loss, and General Stress Disorders.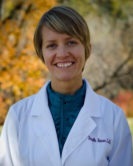 117 CR 250, Suite B Durango CO 81301 USA
6.42 mi
Education : 1)Master's Degree in Traditional Chinese Medicine – Five Branches University, Santa Cruz, California.  This 4-year Master's program included over...